Home
»
General
» Khokhloma: A Timeless Russian Tradition for Contemporary Homes | Russian Doll House
Written by Vadim on April 13, 2011 – 2:15 pm -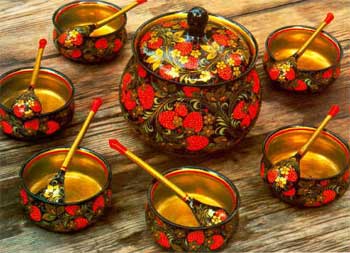 Khokhloma is a Russian folk art that looks great on any modern table. Although it is made of wood, it appears to be gold due to its bright color and metallic sheen. It is one of the most popular crafts from Eastern Europe due to its high quality and timeless charm.

Named after the region where the craft originated, Khokhloma is still made by hand in the old Russian tradition. Wooden tableware is created by hand using a lathe. The pieces are then polished with liquid clay and oiled. After drying, they are covered with metal powder to produce the distinctive metallic sheen. Only after these steps are the items painted. Painting is often done by hand, followed by the application of several layers of varnish. No gold or gold paint are used in the traditional process; the varnish and paint combine to create the golden color that defines the craft.
Khokhloma is usually metallic gold with red, black, and sometimes green accents. However, items with a black background are also sometimes made. The art usually is inspired by nature, with flowers, berries, and leaves among the most common subjects.
Although Khokhloma is named for a trading town in the province of Nizhni Novgorod, this is not where it was originally created. Crafts were made in homes in nearby villages and brought to Khokhloma for sale at the markets. Because it was most commonly bought in Khokhloma, the craft was named for this town. Traditional tales tell of a monk named Andrei who fled the political upheaval in Russian cities and settled in the forest. Although he was found and forced back to his monastery, he left behind the rich tradition of Khokhloma with the village people. Regardless of its actual inventor, historians believe that the art stems from Eastern Orthodox icon painters who settled in the area and taught locals the age-old methods of painting religious items. These techniques were soon used to create Khokhloma tableware, which became one of the most popular and renowned Russian crafts.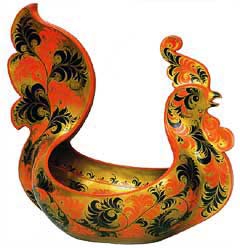 Khokhloma is most famously used for table items such as bowls, platters, and serving utensils, but decorative items and even furniture are created using this folk technique. These hand-crafted items bring warmth to a variety of settings and are an excellent addition to any type of room. The colors are bright and eye-catching, but they have been carefully chosen. The black provides contrast against the warm gold, while the red is a traditional color for Russian handicrafts. Because items are hand-painted, each is completely unique, a one-of-a-kind treasure.
Although Khokhloma art was invented in seventeenth century Russia, it is still being crafted in the old style for collectors all over the globe. Folk art enthusiasts don't even have to dig out their passports to own a piece of Khokhloma; items can be bought on the internet from a variety of sources. From the smallest Khokhloma serving spoon to larger pieces and even furniture, a variety of items ensure that every enthusiast can find a place for this timeless craft.
Tags:
khokhloma
,
lacquered timber
,
timber
Posted in
General
|
No Comments »