Written by Vadim on April 16, 2011 – 3:46 pm -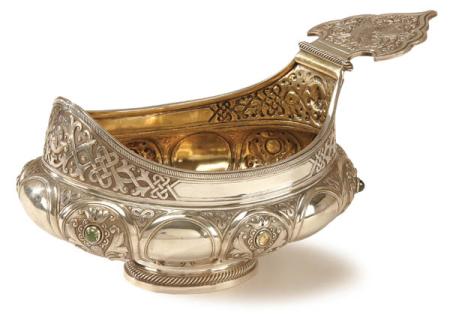 Russian art is popular throughout the world and known for its superior style and craftsmanship. However, few products are as loved by collectors as Russian silver and silverware.

Metal mining is one of Russia's main industries, and the products from this business have been used for centuries to create some of the world's most beautiful silverware. Russian silverware is best known for its inlays and enamelwork, although filigree and solid silver items are also available. The traditional processes used to make silver products today have been in place since the fifteenth century.
Although European collectors have treasured Russian silver work for generations, Russian silver became especially popular in the United States during the eighteenth century. The high quality and characteristic enamelwork were a recognizable sign of a genteel home. Russian silverware in particular was a collector's item of the times, recognizable by a variety of Russian hallmarks and also the unique style. Russian silver items are still conversation pieces that show the distinctive, exotic taste of their owners, and the 84 karat mark assures buyers of the high quality of the pieces. Delicate craftsmanship and attention to detail make Russian silver a lovely addition to any modern home.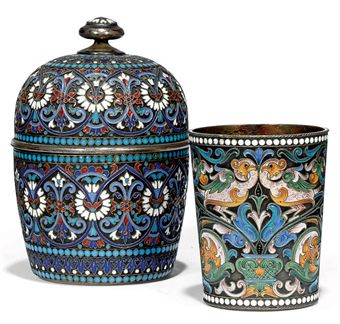 One recognizable type of antique Russian silver is the distinctive cloisonné of the region. Russian cloisonné is prized for its bright colors and semi-transparent glazes, which create a very different look than Asian cloisonné. The unique style is caused by a special technique used only in Russia and Eastern Europe.
Russia is also home to the Champleve technique of silver enamel inlay. The silver pieces are etched on the surface, and these grooves are then filled with colored liquid enamel. Russian Champleve silver items are still made by hand by Russian artisans and treasured by lovers of Russian handicrafts.
Russian silver is not just an investment in style, but a true economic investment as well. A lot of Russian tableware at a 1996 Sotheby's auction fetched five million dollars. Although Russian silver can be bought at a variety of prices, it tends to hold its value well even with regular use. This is an investment that owners can also enjoy and use on a daily basis. As long as Russian silver is maintained carefully, it can be handed down for generations.
Russian silver tends to be purer than that of other regions. Most Russian silver and silverware are 92.5% silver with 7.5% copper. Because of the purity of this amalgam, it must be cleaned carefully, without the use of rubber gloves or chemicals cleaners that can corrode the product. Russian silver oxidizes easily and thus must be regularly polished to maintain its smooth, characteristic glow.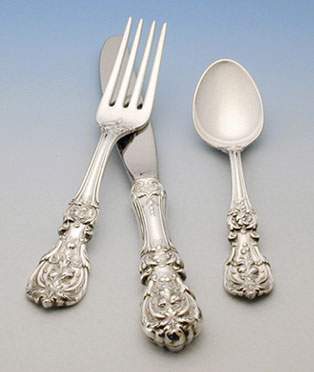 A variety of Russian silver pieces, both with and without enamelware, are available for collectors. Silverware for the table, jewelry, and decorative items such as candy dishes are prized by collectors for their high quality and stylistic blend of Eastern and Western influences. Russian silver brings Old World charm and style to modern homes throughout the world.
Tags:
silver
,
silverware
Posted in
General
|
No Comments »