Written by Vadim on November 17, 2008 – 8:50 pm -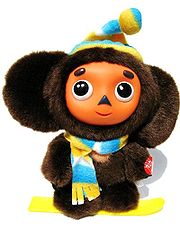 Cheburashka is a famous character in Russian children's literature. He was first introduced in 1965, in a story named "Gena the Crocodile and His Friends", created by the Russian writer Eduard Uspensky.
According to the story, Cheburashka is a funny little animal, unknown to science, with an appearance that can be characterized as being somewhere between that of a monkey and a bear. He lives in the tropical forest. Cheburashka's name means "one, who tumbles down". He is described as "feeling lonely" and "searching for identity".
Cheburashka has appeared in several books and animated series:
1969 – Gena the Crocodile and His Friends
1971 – Cheburashka
1974 – Old Lady Shapoklyak
1983 – Cheburashka Goes to School
He was used as the mascot of the Russian Olympic team in the 2004 Summer Olympics in Greece and a white-coloured Cheburashka was used in the 2006 Winter Olympic Games in Turin, Italy.
Cheburashka may have inspired the development of the Japanese 'Pokemon'  [Pocket Monsters] phenomenon decades later in the 1990s. Indeed, Cheburashka has developed a loyal following in Japan following the screening of an animated film series between 2001 and 2002.
Collectibles are widely sold in Russia, former Soviet Republics and Japan.
Here is video from the Soviet animated TV series, subtitled in English:
Tags:
cheburashka
,
dolls
,
toys
Posted in
General
|
No Comments »