Written by Vadim on April 13, 2011 – 6:32 pm -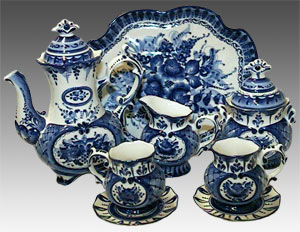 What is Gzhel? This type of ceramics has become popular with collectors throughout the world, especially with those who favor Russian crafts. Named after the Russian village in which the pottery originated and is still made to this day, Gzhel is a type of ceramic that is a creamy, translucent white color with hand painted blue designs arising from folk traditions.
Gzhel is different from other types of indigenous Russian pottery in several ways. First, Russian handicrafts tend to favor red and gold colors, while Gzhel pottery has a much cooler color palette. Second, most Russian pottery is earthenware, which is much thicker and rougher than the fine, creamy white Gzhel porcelain.

Gzhel is named after a Russian village located southeast of Moscow. This village and the surrounding area have been known for pottery since the fourteenth century, although local artisans were likely making ceramics long before this. Traditionally this pottery was created in home workshops, but as its popularity grew factories began to spring up. The original product was earthenware made from molds and then hand-decorated by trained artisans. Although most of the pottery was white with blue patterns, other colors such as green and yellow were used as well and known as majolica.
However, Gzhel potters soon figured out a 'recipe' that produced a translucent white porcelain that was similar to that produced in China and Western Europe at the time. Thus, in 1802 Gzhel became the birthplace of Russian porcelain. The high quality and fine texture combined with the beautiful blue-on-white traditional Russian folk designs soon made Gzhel pottery a favorite. Different from other Russian pottery at the time, the Gzhel porcelain became a regional favorite, and word spread fast. Less than fifty years later, Gzhel was the foremost supplier for pottery in Russia and developing a name throughout the world.
This had a huge effect on the Russian pottery market because locals were no longer forced to pay inflated prices for pottery from other places. Further, the designs on the pottery were distinctively Russian and more rustic than those from other countries. There have since been several breaks in production due to political and economic conditions, but the village of Gzhel is once again making their distinctive porcelain for people all over the globe. The brilliant majolica designs with yellow and green colors as well as the distinctive blue on white designs are favorites both in Russia and abroad.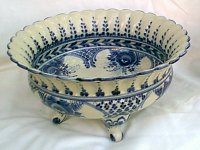 Several items are made in the Gzhel style and method. Tableware obviously is a favorite, but vases, souvenirs, and sculptures are also made with the Old World methods. There is such a diverse range of items that there is something for every taste and every home. Moreover, Gzhel items are not just lovely today; they have a long past and will look beautiful in the future as well. Because of their high quality materials and superior design, items made of Gzhel pottery have the potential to become treasured family heirlooms and valuable antiques. They are an investment in style and in the future as well.
Tags:
gzhel
,
porcelain
,
russian porcelain
Posted in
General
|
No Comments »